Estreou em Inglaterra, no passado dia 3 Junho, o documentário sobre a carreira de Ayrton Senna
.
Ayrton Senna, o mais amado (por alguns odiado) e talentoso piloto da Formula I partiu precocemente em 1 Maio 1994. Tinha 34 anos.
Os grandes homens despertam ou provocam paixões e ódios com a mesma intensidade. Ame-se ou odeie-se, o que ninguém pode desmentir é que Senna foi um piloto que desprendia magia.
Teria feito 50 anos no passado dia 21 de Março.
"SENNA is the thrilling story of the legendary charismatic Brazilian motor-racing driver Ayrton Senna, the film follows Senna's struggles both on track and off it, against the politics and corruption which infest the sport of Formula One. Senna was a deeply spiritual person who believed profoundly in a higher power, driving on the absolute limit was his way to express himself, his way to achieve perfection, his way to be closer to God."
Asiaf Kapadia, director
Senna, o
filme realizado por
Asif Kapadia, 2010, o mesmo que viria a realizar mais tarde, Amy,
é um documentário sério, baseado em factos, imagens e documentos verídicos, que
conta a vida e carreira do tricampeão brasileiro, considerado por muitos como o melhor piloto de sempre na Fórmula I. O filme documentário
tem estreia em Portugal, agendada para o próximo mês de Outubro.
O documentário foi realizado com a colaboração da família de Ayrton,
que cedeu imagens pessoais, da organização do Mundial de Fórmula I, e do
Instituto Ayrton Senna
.
Há quem afirmasse, na altura, que Senna, durante os treinos que decorreram na véspera, teria proferido algumas inquietações (
premonitórias?)
que vieram a concretizar-se naquele que foi o dia mais triste da Formula I.
Ainda hoje, lembro todos os pormenores desse terrível acidente que provocou a morte de Ayrton Senna. Seguia a competição, colada ao ecrã da televisão, como sempre que havia transmissão de um
Grande Prémio. Não arredava. Era fã incondicional.
E o
acidente mortal de
Roland Ratzen-Berger,
na véspera durante os treinos já me deixara ansiosa, muito abalada. Uma coisa é ler mais tarde, outra coisa é estar a assistir via televisão.
Quis, no entanto,
acreditar que tudo seria diferente, nesse dia. Não foi. Todos assistimos com muita emoção ao que aconteceu.
A FI Racing considera que Senna é o melhor filme de Formula I já alguma vez feito.
Ayrton Senna/ Senna, 2010
Senna teve vários prémios e muitas nomeações na categoria de filme documentáro.
Foi galardoado com dois Bafta Awards, 2012. Premiado com
Audience Award no
Sundance Film Festival 2011.
E uma vasta lista se segue que poderá ser lida
aqui
Em Inglaterra há uma grande admiração por Ayrton Senna. O piloto
viveu em Inglaterra, uma significativa parte da sua carreira.E
Senna será sempre um ícone da Fórmula I.
Aliás, todas as equipas pelas quais o tricampeão correu na F I eram britânicas (Toleman, Lotus, McLaren e Williams).
Todos os sinos dobram dentro de cada um de nós, quando um ser querido se afasta por tempo indeterminado... O vazio faz-se em redor do sol, o mar abre túneis sulcados de lágrimas, as flores perdem seu encanto. Morreu Ayrton.
Escrevi nesse dia fatídico.
Eu senti a mágoa da partida de Ayrton Senna. Eu vi.
Nunca mais pude olhar para os Prémios de Formula I. Nunca mais assisti a nenhum Grande Prémio nas transmissões em directo via televisão.
Hoje sucedem-se sem que me sente, ou páre por poucos segundos
diante do televisor. Perdi a paixão imensa que tinha por esse desporto.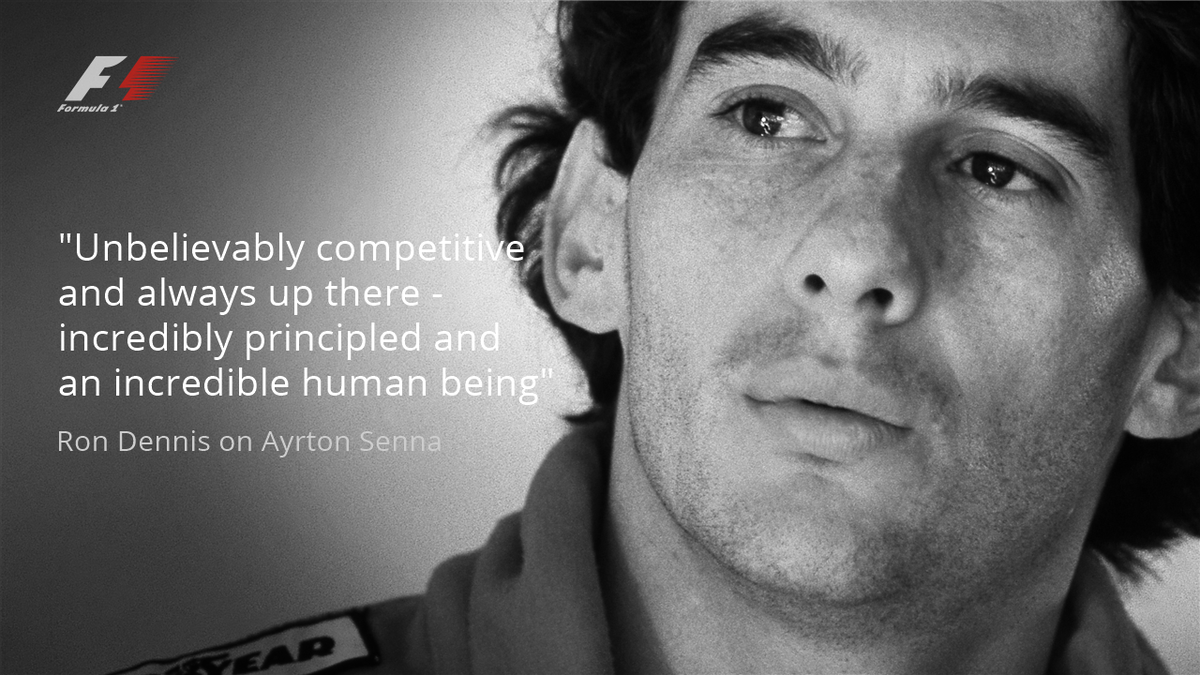 Hoje, dia 1 Maio 2016, 22 anos passados sobre esse dia de pesadelo,
a homenagem
deixada
pela
F I
na rede social Twitter.
Copyright © 2011-Fragmentos Culturais Blog, fragmentosculturais.blogspot.com®
actualizado 01.05.2016